Audiobook Review: Drive by Daniel Pink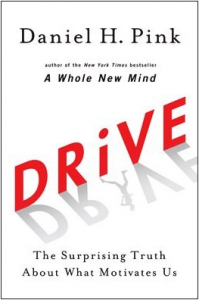 Drive. I needed it. Bad. When I first saw this book, I had wanted...oh, ok... and
still
want to drop a few pounds. Who doesn't? I saw this book, and
knew... KNEW
I had landed on the Holy Grail of controlling my ridiculous appetite. There's a dude running on the cover! It's called
Drive
. It's everything I need to know about getting to my ideal weight! I was wrong.
Drive studies what motivates people, but less in a weight-loss mode, and more of an employer-looking-to-get-more-out-of-employees mode. What Daniel Pink says DOES make sense. Basically, people are motivated by more than just money.
We're motivated by autonomy - being able to do things on our own.
We're motivated by mastery - continually doing better and better at something until we reach perfection - which we never will. There is always room for improvement.
We're motivated by purpose - knowing that we're doing something good - for the betterment of ourselves & others.
It makes a LOT of sense - and it's something you should definitely read if you're looking to get more out of your employees.
If you're looking for the drive to lose those last few pounds - keep looking. His methods work, but it's nothing you can apply to keep yourself from eating when you want to stop.
Have YOU found a way to stay motivated to get to your goal weight? Is there a Holy Grail of weight management book out there? What books or other motivators have you found to be the most & least helpful?
Leave a comment!