The Pros & Cons Of Adopting A Dog
This is a Sponsored post written by me on behalf of
Vectra flea & tick control
for
SocialSpark
. All opinions are 100% mine.
Lately, I've been thisclose to getting a dog for the kids. Ariana has been obsessed... completely obsessed with dogs lately. I've spent the past few weeks going over the pros & cons of adopting a puppy in my head lately.
PROS:
The kids would love a dog!
A dog would be a lifelong companion for everyone in the family.
Depending on the dog, it may be a nice form of protection/security.

CONS:
Cost: We're on a bit of a budget, and the initial cost of getting a dog, expensive vetrnarian bills, food, and other things can add up quickly.
The Hassle: Dogs have to be let out to use the bathroom. I'm not lazy in the least, but I have a hunch that the constant care might get old quickly. I could be wrong, but I've seen a lot of dog owners always get angry at their dogs for how often they need to be let out.
Poop: That poop in the back yard isn't going to clean itself!
Time: With two kids, I'm just not sure how much time I'll be able to delote to walking and playing with the dog as much as the dog needs.
Training: Puppies are cute, but training not to chew on things... as well as potty training might be overwhelming.
Barking: Nothing annoys me more than when I take our kids outside to play, and the neighbors dogs just constantly bark at us.
I'm currently leaning more toward not getting a dog at this point. I do have another pet in mind... but that's another blog post!
What about you? Do you have a dog? What do you find to be the pros & cons? Leave a comment below.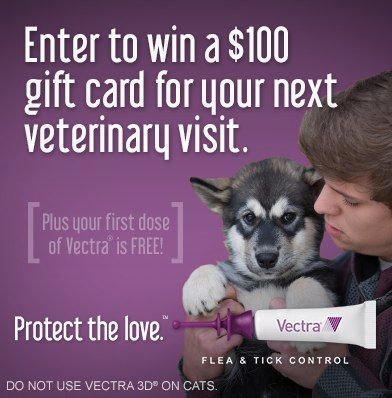 Thanks to
free dose of Vectra flea & tick control
for sponsoring this post!
Protect the love. For pet lovers, it's job one. Pet lovers know. There is a loving, protective spirit that comes with a close pet relationship. You will do anything to protect your best friend. That means using Vectra 3D – long lasting, broad spectrum parasite control for dogs – flea and tick control. For your small dog or puppy, use Vectra for Dogs and Puppies. Or for your cat, use Vectra for Cats and Kittens.
Anywhere in the country, it's always possible for fleas, ticks and other dangerous vectors to infect your dog. It only takes one bite to potentially spread disease. That's why you need the fast-acting, long-lasting, broad-spectrum protection of Vectra 3D®.
Fast-Acting
Kills through contact; parasites don't have to bite to die.
Begins reducing flea feeding in 5 minutes; kills fleas in 6 hours.

Broad Spectrum Protection
Repels and kills fleas, ticks, mosquitoes, biting and sand flies, lice and mites (excluding mange mites).
A repelled vector does not attach or bite your dog; therefore repellent action may reduce the risk of vectors spreading disease to your dog.
Kills adult fleas and prevents the development of all immature stages of fleas: eggs, larvae and pupae.

Long-Lasting
Remains effective after bathing and swimming.
Protects for 1 month.

Convenient
Protection for puppies as young as 7 weeks of age.
Patented applicator makes it super easy to use.
VECTRA 3D® is available at your vet's office.
Be sure to enter Vectra's Protect the love Facebook Sweepstakes for a $100 gift card to use at their next veterinarian visit. A gift card will be rewarded each week for the duration of the Sweepstakes. Each entrant to the Protect the love Sweepstakes can also claim a FREE does of Vectra flea and tick control. Users can print out a coupon for a free dose to redeem at a Vectra veterinarian near them. All readers need to do is enter the sweepstakes, then visit FirstDoseFree.com and fill out the form.
For more info, like
Vectra on Facebook
and follow
@VectraPet on Twitter
.
***Protect the love™ is the official social identity of Vectra flea & tick control. Vectra is a product of Ceva Animal Health, LLC and has multiple formulas for dogs, cats, puppies and kittens. *DO NOT USE VECTRA 3D ON CATS